A large man-made reservoir in the heart of Texas Hill Country, Canyon Lake is where Central and South Texans go to enjoy water-based fun. Formed in the early 1960s for flood control and water conservation reasons, Canyon Lake quickly turned into one of the state's most popular recreation areas. And it only takes one visit to work out why.
Canyon Lake is gorgeous, and the local climate is ideal for enjoying the fresh, clear waters. The lake supports a healthy tourism industry that offers something for everyone: young families, loved-up couples, groups of friends and solo travellers will all find a temporary home here.
But which of Canyon Lake's hotels are the very best? Read on to find out.
Don't see your property listed? Get in touch at [email protected] and tell us why it should be included.
What is the best area to stay in Canyon Lake?
Texas Hills Country is a beautiful place that is fast growing a reputation with travellers. It's not just Canyon Lake – a number of local communities have turned their focus to tourism, and visitors are the major beneficiaries. The most popular places to stay include:
Canyon Lake: The reservoir that forms the centrepiece of the region spans over 33km² (8000 acres) and offers up over 130km (80mi) of gorgeous shores for visitors to enjoy.
San Marcos: A city of 70,000 less than a half hour drive from the lake, San Marcos is a destination all its own.
New Braunfels: Another city less than 30 minutes from the water, this time home to almost 100,000, the pride New Braunfels feels in its German heritage is immediately apparent.
Wimberley: A small town of 3000 to the northeast of the lake, Wimberley remains a secret spot for regular visitors, though the beauty of the surrounding ranch country means that it may not stay that way for much longer.
---
LITTLE HOTELIER TOP TIP : In Google My Business, make sure your hotel name is consistent with your brand as Google can restrict visibility if your Name, Address and Phone Number differ to what is presented on your website.
---
What are the best luxury hotels?
Canyon Lake is a destination that offers a unique form of luxury – more boutique comfort than the glitz and glamour of a five star downtown hotel. Case in point: Equinox Inn at Biscuit Hill, which offers the most tranquil of Canyon Lake escapes to its lucky guests, all stunning views and Texan hospitality. The glamping tents of Getaway Ranch are another unique take on luxury, combining a camping feel with high-end service and amenities. And for those willing to stray 20 minutes from the lake, Collective Hill Country – a Retreat at Montesino Ranch offers luxury and wellness amongst some of the most stunning scenery Hills Country has to offer.
What are the best hotels on a budget?
By no means do visitors need to break the bank on their visit to Canyon Lakes. Less fussy tourists won't have an issue finding high quality, low priced accommodation in the area, some of which, like Horseshoe Riverside Lodge, can be found right on the water. Travellers willing to stay a little further from the lake will still enjoy plenty of H2O at The Resort at Schlitterbahn New Braunfels, a combination water park and resort that offers an unmatched array of accommodation options. And for a clean, comfortable, no-fuss stay, the friendly staff at Wingate by Wyndham San Marcos do the hotel fundamentals particularly well.
What are the best hotels for families?
The sun and fun of Canyon Lake make it a particularly popular place for families. The area is dotted with family-friendly escapes, each of which offers a wealth of activities for the kids to enjoy. Yogi Bear's Jellystone Park™ Camp-Resort is a themed option that is big on fun, and offers guests the option of staying in cabins or at a campground. The same goes for Camp Fimfo Texas Hill Country, with its on-site water park and extensive river frontage. Those with slightly older kids might prefer Summit Vacation and RV Resort, which offers hot tubs, sports, fitness and a clubhouse.
---
LITTLE HOTELIER TOP TIP : If you're near a landmark, offer something truly unique, or if you're the perfect choice for a certain type of guest, be sure to let people know! You can include this content on your website but also your Google My Business listing.
---
What are the best hotels for couples?
While Canyon Lakes is family-friendly, it can also be a perfectly romantic destination for couples looking to spend quality time together – if the right choice of accommodation is made. The adults-only, ultra-boutique Lazy H Lodge Vacation Rental has just five rooms, each lovingly designed and maintained. The Lakehouse Bed and Breakfast is a B&B set in a gorgeous lakefront building and offers a pool and hot tub on site. Couples who enjoy the wilderness might consider Bird Haus Farms, a charming and secluded spot 20 minutes' drive west of the lake where guests can truly get away from it all.
What are the best hotels with a view?
Texas Hills Country is famous for its natural beauty, but there are arguably no better views than those found in and around Canyon Lake. To enjoy these vistas in all their glory, travellers would be wise to stay at any of the following accommodation options:
Best hotels by Canyon Lake
Those aiming lakeside are (perhaps unsurprisingly) in luck. Canyon Lake is awash with waterfront accommodation, including Canyon Lakeview Resort a rustic and spacious retreat, The Lodge at Turkey Cove, a classic waterfront hotel, and the ever-so-welcoming Holiday Lodge on Canyon Lake, which boasts the area's happiest guests thanks to the most accommodating owners in Canyon Lake.
---
LITTLE HOTELIER TOP TIP : When promoting your property, consider your ideal guest type – are they luxury travellers, younger people, families, retirees etc? Understanding your audience and engaging with relevant messaging is key to standing out from the crowd.
---
We're travellers too.
At Little Hotelier we have a deep passion for travel. We also understand the challenges of running a hotel – which is why we've developed a simple yet powerful way for you to manage your property.
The Little Hotelier platform has been designed specifically for small accommodation providers. We help you minimise the fuss and maximise the profits of your hotel, while offering you more freedom and control while you do it.
Don't just take our word for it. Get started right away for free and make life easier.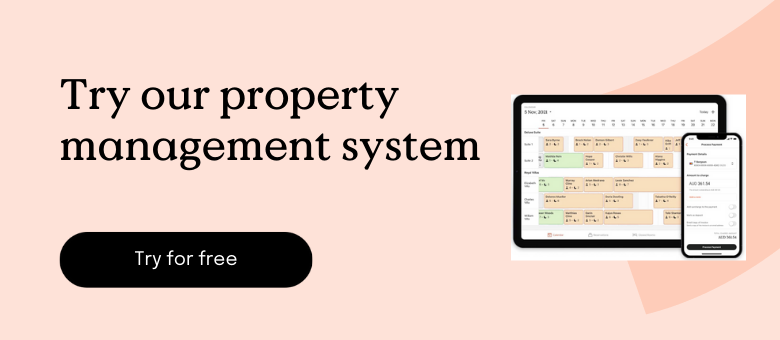 Share with your community: