Cairns, the largest city in tropical Far North Queensland, is considered the gateway to a couple of Australia's most stunning natural wonders: the Great Barrier Reef and the Daintree Rainforest. It's one of the country's favourite destinations for a reason.
One way for travellers to make a trip to Cairns even more special is by bringing their furry friends along, and with the number of pet-friendly accommodation options growing, more and more guests are doing just that.
Which pet-friendly hotels are best? And how will a pet owner approach a visit to Cairns? The answers to these questions and more can be found below.
Don't see your property listed? Get in touch at [email protected] and tell us why it should be included.
---
LITTLE HOTELIER TOP TIP : Connect with niche online travel agents (OTAs). You may be listed on Booking.com and Expedia, but by connecting with additional niche OTAs, you could get far more bookings from your ideal type of guest.
---
What is the best area to stay in Cairns with pets?
The best area to stay in Cairns will depend on what a traveller, and their pet, are hoping to get from their trip. A handful of stand-outs include:
Cairns City: The CBD of Cairns covers the central pier and harbour area, where much of the accommodation, restaurants, bars and tours are concentrated. The Esplanade is the perfect place for visitors to walk their pooches.
Cairns North: Follow the Esplanade far enough and a guest will find themselves in Cairns North, which is home to the longest stretch of waterfront in the city. Those who stay here are treated to enviable views of the Great Barrier Reef.
Palm Cove: No part of Cairns is quite so picturesque as Palm Cove, where the namesake trees swing out over the golden sand to the gorgeous blue hues of the Great Barrier Reef. This satellite suburb is an Instagrammer's delight.
What are the best pet friendly hotels in Cairns?
Visitors looking to experience the delights of Cairns from the lap of luxury are in for a treat at Crystalbrook Bailey, a luxury hotel known for rolling out the red carpet for furry companions. The hotel offers dog-friendly packages for $95 per room, which includes a food and water bowl and a high-end treat on arrival.
Visitors looking for space to stretch their (and their pets') legs will find exactly that at BIG4 Ingenia Holidays Cairns Coconut, a pet-friendly holiday park that is big on on-site fun.
A trip to the Great Barrier Reef needn't be expensive – a point proven by the ever so cost-effective Castaways Backpackers hostel. Private and shared rooms are available, and on top of welcoming pets, this hostel is proudly bunk bed-free.
---
LITTLE HOTELIER TOP TIP : To get more bookings, test out fun promotions during your low season. Try offering significant discounts for a long-term stay, a free room upgrade, or a complimentary dinner on the first night.
---
Key considerations for guests when booking a pet-friendly hotel
Even amongst self-described 'pet-friendly' hotels, some establishments are friendlier to pets than others. The devil is often in the detail, so any traveller looking to get away with their four-legged friend will be researching the following:
Terms and conditions: Many pet-friendly hotels have restrictions on size, weight, breeds and number of pets in a single room. There may also be rules on where a pet is allowed to go within the hotel, and when they need to be leashed.
Fees: There are usually fees associated with bringing a pet to a hotel stay. This can either be in the form of a flat rate or a charge based on the number of pets and number of nights. Guests should find out exactly what they need to pay before they book.
Local area: Cairns, like many other parts of Australia, has a number of unique  ecosystems that local governments are responsible for protecting, so it's important for a visitor to check what rules and regulations the local council might have regarding domestic animals. It's also wise to check for pet shops, vets and green spaces nearby.
How to make it known your hotel accepts pets
When hunting for a pet-friendly hotel, most travellers will head straight to the internet and type something like "pet-friendly hotel [CITY]" into Google or Google Maps, at which point they'll be served a wealth of rich results. If your hotel is pet-friendly, you need to ensure you're one of them.
Doing so is (relatively) simple – you just need to make your pet-friendliness clear on your website, ideally with a dedicated page, as this will ensure Google sees it.
You should also take the time to outline your pet policy in a clear and concise manner, so guests can check if it aligns with their needs. The more transparent you are, the less confusion there is, and the more bookings you're likely to get.
What is the best time of year to travel to Cairns with a pet?
The tropical climate of Cairns is split into two distinct seasons: wet and dry. Wet season stretches from November to May, peaking in February, and is a time of heavy monsoonal rains. Dry season, from June to October, is far less wet and humid and slightly cooler (though still rather warm).
Dry season is by far the more tourist-friendly time to travel to Cairns, and is when the city welcomes the majority of its visitors. That said, the sun still shines during wet season, and travellers (and their pets) may be able to find a far better deal at this time of year.
---
LITTLE HOTELIER TOP TIP : Create quality video content showcasing your property. Gone are the days where potential guests could be won over with photos alone. People want to get a feel for the place first, with video content more likely to be shared amongst friends and family members. 
---
We're travellers too.
At Little Hotelier we have a deep passion for travel. We also understand the challenges of running a hotel – which is why we've developed a simple yet powerful way for you to manage your property.
The Little Hotelier platform has been designed specifically for small accommodation providers. We help you minimise the fuss and maximise the profits of your hotel, while offering you more freedom and control while you do it.
Don't just take our word for it. Get started right away for free and make life easier.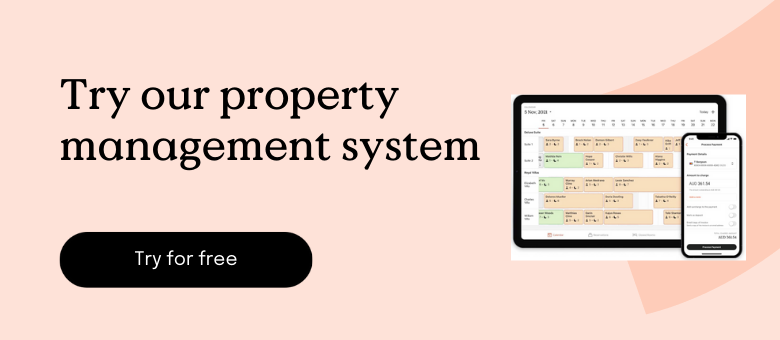 Share with your community: